Are 85-99 Speed and Acceleration Worth it in NBA 2K23?
Are you a basketball player considering investing in the 85-99 speed rating and 85-99 acceleration? In this guide, we'll look at this rating and explore whether it is worth it in NBA 2K23. We'll cover topics such as how acceleration works, how it affects movement with and without the ball, and how the acceleration boost varies depending on the setting. We'll also discuss the opinion of different players on the topic and provide our take on the matter.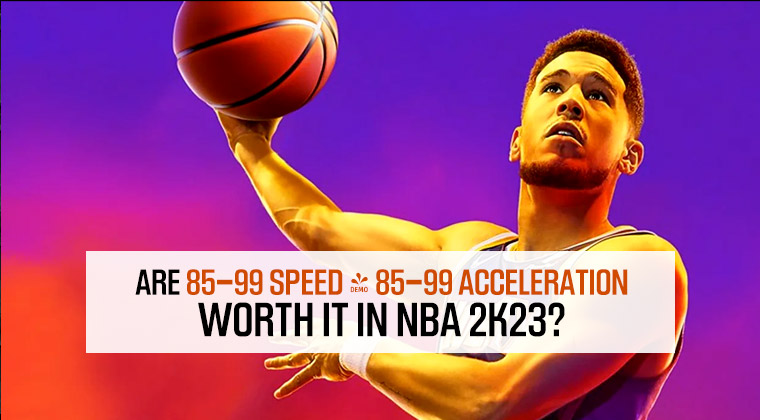 Is 85-99 Speed Ratings Still Worth It?

What Does the 85-99 Speed Rating Do?
The 85-99 speed rating increases your movement speed without the ball. This rating won't affect your lateral movements since those are tied to your perimeter defense. To give you a visual perspective, here's the difference between 25 and 99.
At this point, the gap is only small, and if you keep running, the boost will be amplified. This means you'll get faster and faster. It's important to note that this boost will only be effective up to a certain point. From that point forward, the gap will be the same.
Is 85-99 Speed Rating Still Worth It?
Now that we know how the rating works, let's consider whether it's still worth investing in. For the most part, it is still worth it. The rating is linear, so you'll still get a good boost even if you reach the max. There's no saturation point at all.
Moreover, there's a spike in the rating around 29-57. This means you'll unlock faster launches if you reach this point.
Is 85-99 acceleration worth it in NBA 2K23?

What is Acceleration?
Acceleration is a setting in video games such as Madden 23 that affects the speed of a player's movement with and without the ball. It does not affect the player's off-ball movement; it is only activated when the player is running with the ball. It gives the player a speed boost as they explode in one direction. When the player is just flicking their player's stick up, they are not considered moving, and acceleration has no effect.
Does 85-99 Acceleration Have a Worth?
The opinion on this topic varies among players, with some believing that you must set the acceleration to a value higher than 85 to make it useful. In contrast, others believe it is sufficient at 85. After much testing, the results suggest that the acceleration boost is linear, meaning that even if you set the acceleration to 85, you will still receive a boost. It may not be visually obvious, but the small gap still matters in a game where speed boosting is essential.
Conclusion:
In conclusion, investing in the 85-99 speed rating and setting the acceleration to 85-99 is highly recommended for guards as it will increase their speed and give them an edge in 2K23. This small gap may take some time, but it can still make a big difference.