How to use Agent 3 Shooting Badge in NBA 2K23?
Welcome to our definitive guide to badges in NBA 2K23, the last time we analyzed Bully Badges. In this chapter, we look at the Agent 3 Badge, This badge is one of the most powerful badges, and it can have a huge impact on your game. This guide will explain the Agent 3 Shooting Badge, how it activates, and the best badge levels.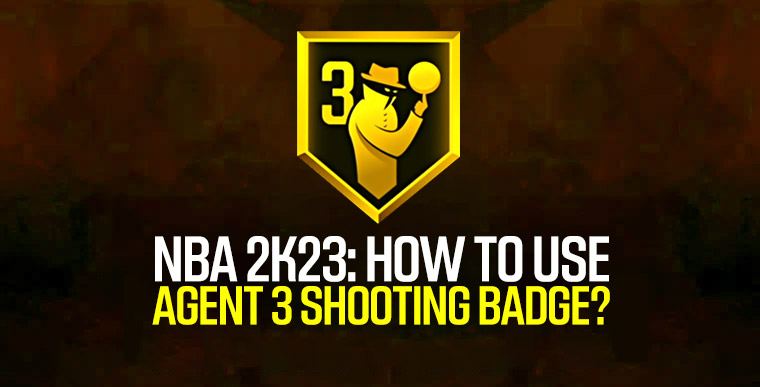 What is the Agent 3 Shooting Badge?
The Agent 3 Shooting Badge is a three-point shooting badge that improves the ability to make pull-up or spin shots from three-point range. This badge can activate on nearly any type of three-point shot, including dribble pull-ups, hop-backs, and stopping and shooting. It is one of the few elite shooting badges in NBA 2K23 and is considered in the S-Tier.
Agent 3 Badge Levels
The Agent 3 Shooting Badge has four levels: Bronze, Silver, Gold, and Hall of Fame. Each level has different activation thresholds and boosts.
Bronze: This level slightly boosts the late timings toward the edge of the green window, but its effects could be more noticeable.
Silver: This level has a sizable boost from Bronze, where the make percentage is increased by roughly 5% at the center of the green window. You only need an 83 3-point rating to unlock Silver Agent 3.
Gold: The center of the green window doesn't see a huge boost from Silver, but the edges of the green window are significantly more forgiving when it comes to jumpshot timing. Having Gold Agent 3 will greatly increase your make percentage.
Hall of Fame: This level has a slight boost throughout the green window of about 1-3%. It is very costly to unlock, requiring a 96 3-point rating, so it might not be worth the investment for a small boost.
Synergy Badges
Some badges will help improve the effectiveness of Agent 3. Blanders will help increase your make percentage by giving you fewer contests. Volume Shooter and Green Machine are also good badges to pair with Agent 3. However, Space Creator does not stack with Agent 3, as that combo would be too powerful.
Conclusion
We hope this guide has helped explain the Agent 3 Shooting Badge and how it can help improve your shooting in NBA 2K23. Check out our other badge guides and subscribe to our channel for more badge tests and info.